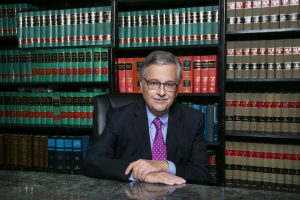 John W. Jonap is a graduate of The Oxford Academy and holds a Bachelor's of Business Administration Degree from St. Bonaventure University where he was the President of The St. Thomas More Pre-Law Society and Delta Sigma Chi, and holds a Master of Science in Management from the Polytechnic Institute of New York University. He also attended the New York Institute of Technology. He received legal training at Loyola University School of Law where he was a member of Phi Alpha Delta and John Marshall Law School where he was a member of Nu Beta Epsilon, and was awarded a Doctor of Jurisprudence with Honors. In addition, Mr. Jonap was awarded a Juris Doctor degree from the Woodrow Wilson College of Law. He holds a Certificate from Georgia State University College of Law Center for Continuing Legal Education, he also holds Certifications in Negotiation and Advanced Mediation from Harvard University Law School. Mr. Jonap has been an Adjunct Professor, at John Marshall Law School.
Mr. Jonap holds a Certificate in Mediation from the Justice Center of Atlanta. He was Certified by the Georgia Office of Dispute Resolution, in addition, he holds a certificate in Mediation and Advanced Mediation from the Atlanta Divorce Mediators, and a certificate in Arbitration from the American Arbitration Association. Mr. Jonap holds the title "Advocate," awarded by the National College of Advocacy and by The American Trial Lawyers Association, now known as the American Association for Justice. He has been a Principle in The Advocate Legal System, Inc, the All States Will Kit, Inc, and Honeywell & Todd Advertising, Ltd. Mr. Jonap also retains the Corporate Rights to American Mediation Association, LLC. He received certificates in real estate appraising and valuations from Adelphi University and the Columbia Society of Real Estate Appraisers. Mr. Jonap also received a certificate from the Benjamin W. Goldberg school of real estate. He previously was a licensed real estate broker in the state of New York where he formed his own Real Estate Brokerage Firm, the Residential Realty Corp. Prior to his practice in Georgia, Mr. Jonap worked for the New York Law Firm of Siben & Siben. Once in Atlanta, Mr. Jonap performed internships with the Decatur Housing Authority and for the Governor's Office of Consumer Affairs. Mr. Jonap was a member of the legal department of The US Small Business Administration in Atlanta and practiced Law with Don C. Keenan.
John W. Jonap began his practice of law in 1976. He formed a partnership, Siler & Jonap in 1983, which became the largest Plaintiffs Law Firm with offices statewide in Georgia and an office in Chattanooga, TN. John W. Jonap went on to become Jonap & Associates, P.C., in 1991 and to date, Jonap & Associates, P.C., has served clients in over 38 states and the District of Columbia from offices in Georgia, Virginia, Maryland, New York, and Washington, DC. Jonap & Associates, P.C. now has offices in Atlanta, Macon, and Savannah.
Mr. Jonap also was instrumental in the litigation of several class action law suits, the most notable being: Pedicle Screws, Dalkon Shield and Breast Implants. He has worked with clients in 38 states, support groups and presented seminars for the victims of these Product Liability Cases.
Mr. Jonap has represented clients for almost 40 years of practice nationwide. He has been involved in cases from Auto Accidents to Medical Malpractice. He was awarded a $3.3million Nursing Home Abuse verdict, one of the largest verdicts of its kind in the State of Georgia. He has a special passion for these cases since they are victims who cannot protect themselves. Mr. Jonap has become counsel to the firm and his son Jeffrey has become a principle in the corporation. The firm has recovered well in excess of $100 Million for their clients.
Mr. John Jonap resides in Atlanta, Georgia, and Jeffrey Jonap resides in Decatur, Georgia.
Court Admissions
Supreme Court of the United States

United States Court of Appeals 11th Circuit (Atlanta)

United States Court of Appeals 5th Circuit (New Orleans)

United States Court of Claims

United States Tax Court

Federal District Court Northern District of Georgia

Federal District Court Middle District of Georgia

Federal District Court Southern District of Georgia

District of Columbia Court of Appeals

Supreme Court of Georgia

Georgia Court of Appeals
Memberships
State Bar of Georgia

District of Columbia Bar

American Bar Association

Federal Bar Association

GA Trial Lawyers Association

The Association of Trial Lawyers of America, now American Association for Justice

Georgia Office of Dispute Resolution

American Arbitration Association

NAELA (National Association of Elder Law Attorneys)

Delta Sigma Chi

Nu Beta Epsilon National Law Fraternity
JEFFREY S. JONAP
More information to come.
KEITH PITTMAN
Senior Litigation Paralegal